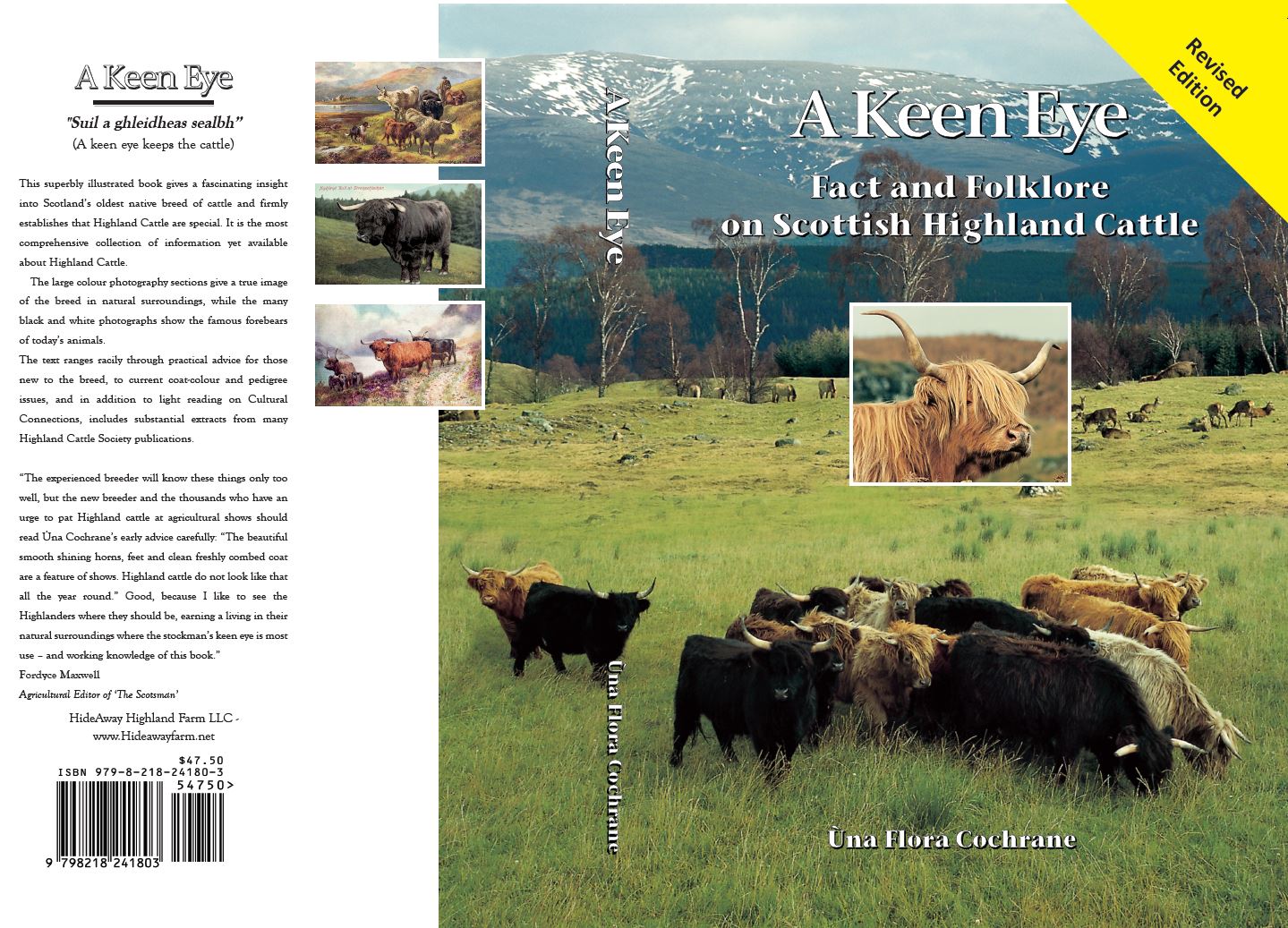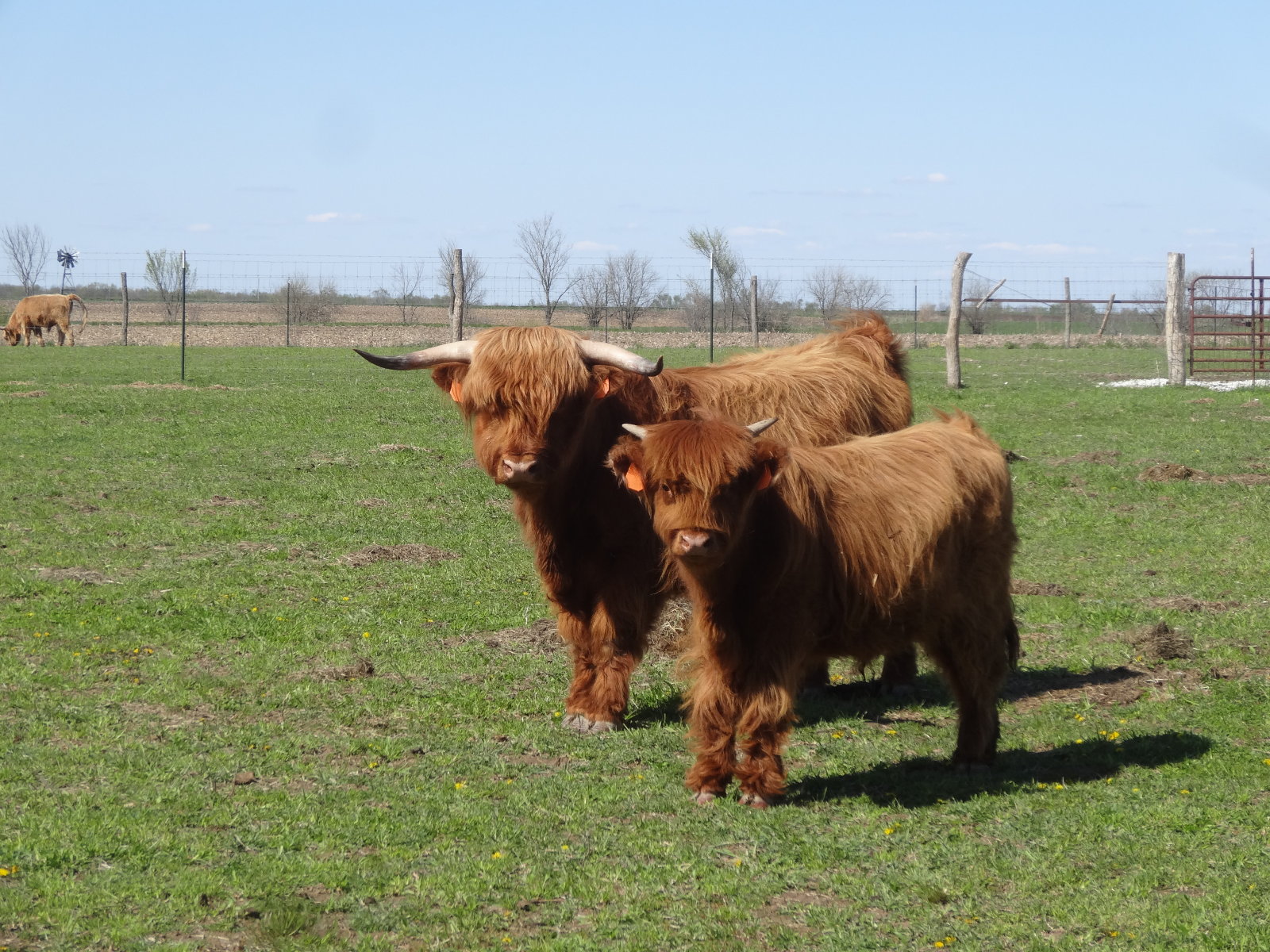 About HideAway Farm ~ www.Hideawayfarm.net
Established in 1998 in west central Illinois, and dubbed "Terry & Kay's HideAway" by Terry's father, it offers 128 acres of rolling hills, woods, pastures, and 50 acres of tillable crop land. Though not as rocky as their native Scotland, this land is perfectly suited to a Fold of the rugged Highlands, which we began assembling in 2011 from championship bloodlines. Our Sr. bull, Skye High Capone was the 2015 National Western Stock Show Reserve Grand Champion and has sired both National Western and Washington State Fair Grand and Reserve Grand champions.  Our Jr. bull, Almosta Farm's Baron was selected the 2020 Sr. show bull for the American Highland Cattle Association.
HideAway Farm is now home to about 35 pure breed Highlands, (with about 12 calves annually), a flock of Guinea fowl and 7 Honeybee colonies to help keep the planet pollinated. HideAway Farm is a member of the American Highland Cattle Association, (all HideAway Farm breeding stock is AHCA registered) and the Midwest, North Central, and South Central Highland Cattle Associations. In 2012 Terry was certified through the Quality Beef Assurance program sponsored by the American Highland Cattle Assoc.
We offer select highland breeding stock and limited supplies of all natural grass fed highland beef raised in an open pasture, low stress environment. For more information about the low fat, high protein qualities of Highland Beef please see back page.
Our cattle are grass fed/grass finished and pasture raised naturally without steroids, growth supplements and un-needed antibiotics creating a lean, flavorful wholesome beef.
Custom cut beef ¼'s available. Call or email for our next delivery – ask to be added to the email list for details or reserve your ¼ today!
About Highland Cattle ~ Breed Characteristics:
Highland cattle are clearly one of the most distinctive cattle breeds in the world. With Majestic sweeping horns and long thick outer coat of hair they have remained true to their Scottish roots for centuries. Known for tremendous resilience, a gentle nature and great maternal instincts, the Highland has thrived in harsh climates with poor forage.
Referred to as the "Grande Olde Breed", Highlands are one of the oldest registered breeds of cattle, with the first herd book established in 1885 and written records of the breed from the early 1700's. Highland beef has been the English Royal family's preferred beef for generations, with their own fold (the Scottish term for herd) maintained at Balmoral Castle. In the 1880's and 1890's American cattlemen recognized the natural qualities of the breed and started importing Highland cattle to help them improve the bloodlines of the commercial beef herds. Highlands are a disease resistant breed due to genetic advantages and less affected than other cattle breeds to common bovine diseases.
Highlands come in variety of colors: red (the Queen's favorite), yellow, dun, brindle, black, silver, and white. Docile and even tempered, they are a desirable breed for hobbyist and commercial cattlemen alike. Superior in intellect, the Highland is very trainable and halters easily. From centuries in the harsh rocky Scottish Highland range that bears their name, Highland cattle are very efficient grazers. They can do well on pastures where other cattle will not, and have been used to clear overgrown pastures and wooded areas. Their browsing ability and efficiency makes the Highland the ideal breed for natural grass fed programs.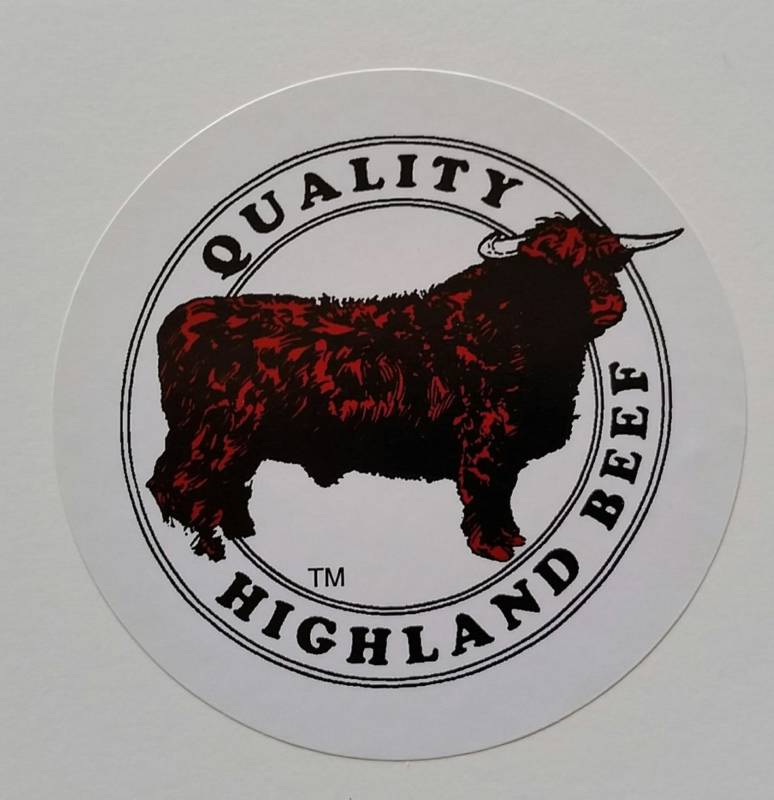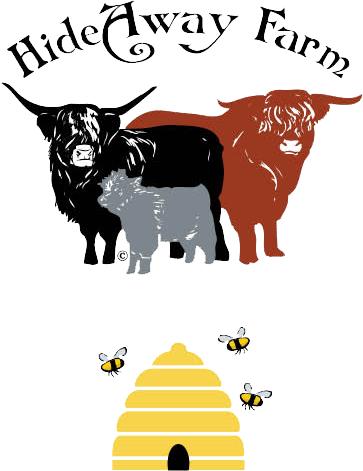 Terry & Kay Clemans – HideAway Highland Farm LLC
PO Box 64 Marietta, IL 61459 – 630-924-8540
Terry@Hideawayfarm.net or Kay@Hideawayfarm.net
HideAway Highland Farm LLC Cattle are: All Natural ~ Grass Fed ~ Low Stress ~ Simply Amazing Beef
Highland cattle feature a double coat of hair, including the long hairy outer coat which replaces the thick layer of fat needed by most breeds for protection from winter winds. This trait carries further, providing a lower overall fat content of the meat. Highlands grow slower, providing for a natural, more flavorful and tender meat. When cooked properly (low fat, grass fed beef requires added care and a medium or lower temperatures), it yields a juicy, yet healthy red meat.
Analysis by American, Canadian and Scottish sources1 all conclude that Highland cattle has the following characteristics:
Lower overall fat content

Lower calories

Higher Omega-3 fatty acids

A higher ratio of Omega-6 to Omega-3 fatty acids

Higher Conjugated Linoleic Acid (CLA is a cancer blocker and muscle builder)

Higher in vitamin E

Higher in beta-carotene
Highland beef is lower in fat than Chicken, Pork Loin, Snapper, Halibut and common beef while being lower in cholesterol than Buffalo, Codfish, Venison, Chicken, and lean red common beef.
Jo Robinson claims: "Move over chicken. Make room for grass-fed beef!" From the book Pasture Perfect: The Far-Reaching Benefits of Choosing Meat, Eggs, and Dairy Products from Grass-Fed Animals
The book goes on to discuss that grass-fed/finished beef is an excellent source of high-quality protein, iron, zinc, selenium, phosphorous, and the B-complex vitamins. Grass fed beef is superior to grain-fed beef in a number of key ways. As a result, grass-fed meat has up to four times more beta-carotene than conventional feedlot meat. Given all of these benefits, a steak from a cow raised on pasture is even healthier for you than a chicken breast, the meat often recommended by health care providers and dieticians. The steak has about the same amount of total fat, making it an equally good choice for a heart healthy diet, only with more Omega-3s. What's more, it has less cholesterol than chicken and more than four times more CLA.
For information about HideAway Farm Highland beef packages, ¼'s and ½'s – Join our emailing list!
Or contact Terry@Hideawayfarm.net or Kay@Hideawayfarm.net or call 630-924-8540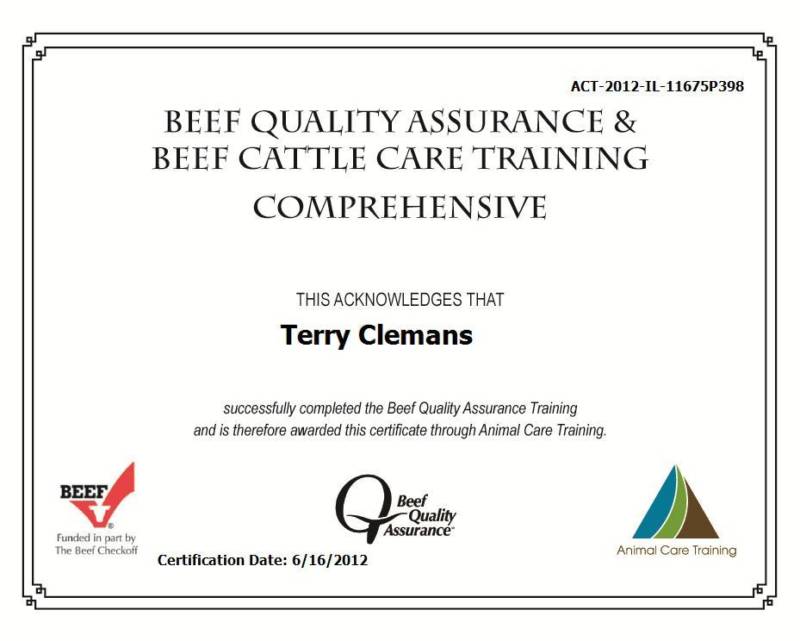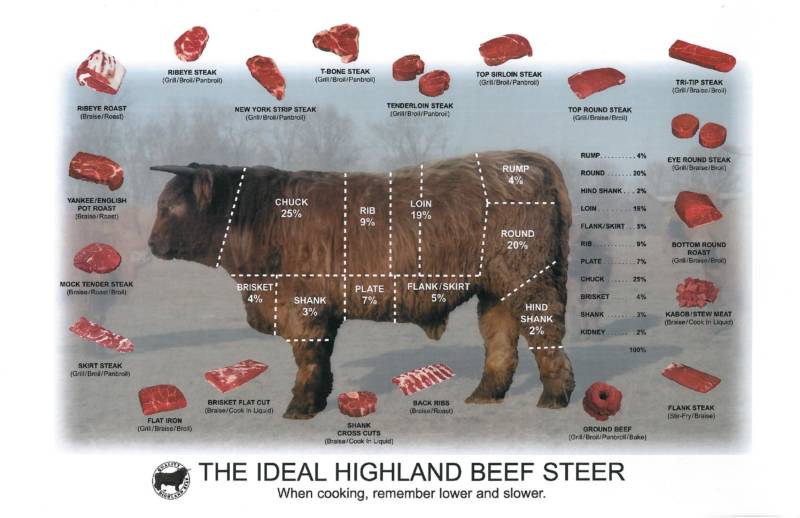 1 Conclusion summarized from studies on Highland beef done by the Independent commercial testing laboratory of Colfax, Wisconsin in 1952, The Scottish Agricultural College, McCance & Widdowson Ministry of Fisheries and Food (MAFF) and Mayberries Canadian Research Station.
Pardon with us – Our website is still under construction.